Irrigation Controller Manuals
Outdoor Lighting Resources
Low voltage outdoor lighting installation procedures should not damage the existing landscape. No digging or trenching is required. Minimal disruption is best achieved by installing after the landscaping is finished. This avoids the necessity of relocating the lighting if the finished landscaping deviates from the original landscape plan. It also avoids the possibility of damaging equipment put in place during landscaping installation.
An unswitched 120v outdoor receptacle is the usual power source. Since the lighting transformer will be permanently plugged into the outdoor receptacle this receptacle or the circuit breaker at the electrical panel must incorporate a GFCI (ground fault circuit interrupter) device. Recent NEC (National Electrical Code) rules stipulate that a raintight-in use cover must also be fitted to allow the receptacle cover to close over the transformer cord plug.
The transformer is solidly mounted close to the receptacle. Fixture locations are marked, and the main low voltage supply cable is laid on the ground to within 3 feet of each fixture. The fixtures are mounted onto a ground stake and connected to the main supply cable by using the proper water tight wire connectors.
After fixtures are assembled, lamped, mounted and connected to the main cable, the transformer is switched on. With all fixtures operating the voltage at selected points is checked, recorded and adjusted as necessary. Transformer controls, Timers for client-specified hours of operation are then programmed for automatic function.
Prior to finalizing the installation, at least one Night-Time critique of the lighting effects is necessary. This ensures that the lighting project meets the needs and expectations of the installation crew & the client. This critique will be scheduled for the evening prior to the final day of wire burial & Clean-up. This allows the client the opportunity to experience the lighting effects and to make note of any changes, additions or deletions needed to conform to site specific requirements.
After final approval of the Night-Time critique, the exposed wiring will be covered by the clients existing dirt, mulch, hidden in ground cover or tamped into a slit in turf. Project details are recorded to aid future service needs.
Landscape lighting requires periodic maintenance to ensure its beauty, functionality, and reliability. That's why we have a team dedicated to providing outdoor lighting maintenance and repair services to homes and businesses in South Shore, Cape & Islands and Boston/ Metro West areas. To protect your investment, we offer annual, bi-annual, and quarterly maintenance services. Enjoy the peace of mind knowing your outdoor lighting system is working as intended.
Let Rainfall Landscape Lighting help bring your memories to life with temporary event or holiday lighting. We design, install, and store decorative lighting both for homes and businesses. Contact us today to discuss the many unique lighting options that are sure to bring the spirit of the holidays or the elegance of your event to a new level.
For more on our holiday lighting program, click here.
Halogen once was the reliable and preferred choice for landscape lighting, but it has been phased out for LED lighting, which offers greater performance, longevity, energy efficiency, and longterm cost savings. Switching from a halogen bulb to LED lamp can be relatively simple depending on the age and type of fixtures installed. Some fixtures can be retrofitted to hold a LED lamp while older fixtures will need to be upgraded to ensure its watertight and prevent any potential problems. Due to this complexity, we offer free LED Conversion Assessments.
Each LED Lamp is guaranteed for a full 5 years from install. Our transformers and standard copper fixtures are guaranteed for life. Plus, you always have the Rainfall Landscape Lighting 100% Satisfaction Guarantee, which means that your job is not complete unless you believe we've done our best to illuminate your space with the beauty and function you've envisioned.
Mistaway System
A research study in 2007, funded by the state of Florida, and conducted by entomologists at Florida A&M University, documented the effectiveness of the systems – by comparing mosquito counts in sites that had MistAway systems to counts in control sites that didn't.
During the first few weeks of the study, it reported that "mean mosquito abundance in treated yards was lower compared with untreated yards, where reduction ranged from 71% to 98%."
And following a drought during the middle of the study period, ". . .  reduction ranged from about 62% to 91%, compared with yards without the systems."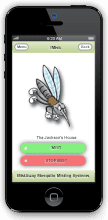 iMist is a wireless monitoring and management solution for your mosquito spray system. With the iMist™ app on your smartphone, you can trigger a remote mist, change the system mode, or quickly contact our service department.